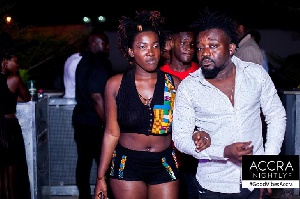 Kwabena Kwabena's manager, Frema who is also a TV presenter had some few words for dancehall artiste Ebony after one of her shows on TV days back.
Frema Ashkar was reported to have said on 'Good Morning Ghana' show on Metro TV that Ebony is not being creative judging from the few songs she has released in the year.

"As a musician, everybody is a competitor and so we are going to be marking you along those lines…she came up with a couple of songs Sponsor and the other one well which I think she was doing so well…personally I was expected her to grow but she is not being creative she is not growing…A mean!.. in communication where you place your punctuation marks can change the whole meaning of your sentence and so when you keep the breaks you can not tell me you not saying other things.

Sex sells but beyond that then what?…let's us see the substance in you…the quality in you …you came out with that— is that all we are going to be having? Quite honestly we are tired of that." Frema opined.

Manager of the 'Sponsor' hitmaker, Bullet in a reply on Hitz FM is reported to have twacked Frema for her comments on the 20-year-old singer's brand.
According to entertainmentgh.com, Bullet has asked Kwabena Kwabena's manager to keep her advise for her artiste because he equally composes profane songs.

Bullet even went on to mention some of the songs by Kwabena Kwabena which he feels, have profane lyrics including songs like 'Adult Music', 'Tuamuda' ' Siwagegem' and others.

He also had an advice for Frema; to deal with her artist first, before coming out to proffer any suggestion to the Ebony brand.