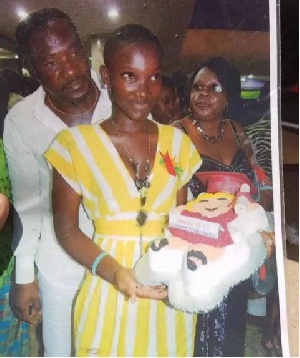 A photo of Ebony Reigns as a teenager has emerged on social media. This picture shows teenage Ebony enjoying the undying support of her father as she held on to what seems to be a plaque given her after graduating from Junior High School (JHS).
Ebony's father has been with her, giving unconditional love and support even before she established her music career.

YEN.com.gh is gathering that the decision by Ebony to drop out of school at Form Two never angered her father. In fact, when called by teachers over her decision, her father insisted that his daughter's decision to live her life and achieve her dreams must not be broken or dashed.

Meanwhile, a detailed conversation between Ebony Reigns and her management show that the dancehall singer saw the dark clouds of death forming over her head even before setting off to Kumasi.

Manager of the 20-year-old singer, Bullet Ruff N Smooth, released all conversation Ebony had with her management on Whatsapp just hours before her trip to Kumasi.

So far, the bodies of Ebony, the soldier and another man are at Mankranso Hospital. As investigations are ongoing. Priscilla Opoku-Kwarteng is Ebony's real name. She was born on February 16, 1997.

Ebony is a Ghanaian dancehall artist is widely known for her hit songs "Poison" and "Kupe", she was discovered by Bullet, a member of Ruff n Smooth fame.