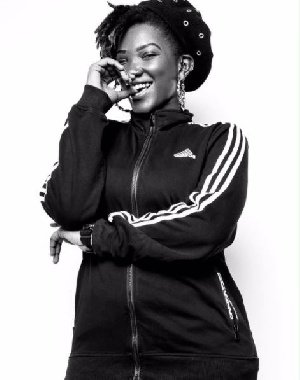 Dancehall sensation, Ebony Reigns, born Priscilla Opoku-Kwarteng has opened up on a viral video that sent a lot of criticism down her way and what actually caused it.
Speaking in an interview on Showbiz Agenda on Accra-based Zylofon FM, the "Date your father" hit maker revealed that the whole episode was a result of a 'wardrobe malfunction'.

She insinuated that it was not a ploy to seek attention from Ghanaians as many people have purported on social media. The musician was slammed for dressing 'indecently' to the 2017 4SyteTV Music Video Awards when a video in which she was wearing a blue dress went viral on social media.

She received a barrage of attacks for the act and many people accused her of trying to be an 'attention seeker' with her wardrobe choice.

When the video went viral, the "Sponsor" hit maker came out to squarely face all her critics when she revealed that she was not in any way going to change her way of dressing to suit anyone.
She indicated that her dressing was also part of her branding and it was just a matter of time till Ghanaians came to accept her for her way of dressing.

Her manager, Bullet of Ruff and Smooth fame came out and slammed the 'cameraman' as the cause for the video going viral. He also slammed some celebrities who criticized his artiste.

However, the explanation given by the artiste seems like a U-turn after she had vowed not to do anything to please the general public but stay true to herself.

Ebony has gained a lot of recognition with her songs and stagecraft. She has also won the admiration of many public figures and entertainers including Countryman Songo, Shatta Wale, Bulldog and Abeiku Aggrey Santana. She recently held a corporate launce of her album, "Bonyfied".