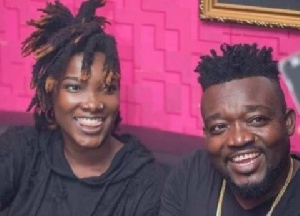 Award winning sensational songstress Priscilla Opoku-Kwarteng popular known as Ebony was involved in a motor accident and died together with two others on February, 08,2018.
After her untimely demise, there have been several rumours and prophecies from prophets and spiritualists concerning the cause of her death and how her management ignored warnings from prophets but her manager, Bullet has debunked these allegations insisting spiritually, they did their best to save the 90's bad girl but it seems it was destined to happen.

He explained this on his Facebook timeline:

"I have seen videos and heard audios of some people and prophets after the death of my girl ebony.can people have a little heart and stop judging her. Kaywa saw this long time and did a lot of directions and prayers for us.i have chats with prophets who also saw this coming.we did what we could but God knows best!".
Bullet shared some personal WhatsApp chats he had with Ebony as well as some chats from the management team's platform to show that indeed they did not rest on their oars so far as the 'death prophecies' were concerned.