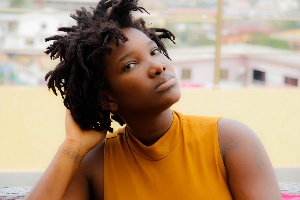 Performing artiste, MzBel says late Ghanaian artiste, Ebony was the modern day version of her.
The former told the Graphic Showbiz newspaper in a recent interview, she will remember the 'Sponsor' artiste for her bubbly smile and her being a genuine person.

"She was genuine, she was so real and I would say she was the modern day MzBel. She came as a queen and died as a queen." stated MzBel.

Ebony died after she was involved in a gory accident on the Kumasi–Sunyani road on February 8, 2018 when she was returning to Accra from Sunyani.

Her friend, Franky Kuri, and a Military Man, Atsu Vondee, who is said to be her bodyguard on board a Jeep from Sunyani also died in the head-on collision with a VIP bus heading towards Sunyani from Kumasi.

Her funeral service was held at the forecourt of the State House. She was later buried at the Osu cemetery on Saturday, March 24, 2018.
The event attracted people from all walks of life.

Like Ebony, Mzbel was often criticized for what she wore on stage, and in her music videos during the prime of her career.

She was sexually abused on stage by students during a performance at the Kwame Nkrumah University of Science and Technology.

When she was attacked and raped at her Weija home years ago, it didn't elicit any sympathy from people who swore she deserved it for being, literally the face of moral decadence in the country.

Ebony courted a lot of controversy with her actions and inactions.
Her dressing and stage performances especially was a sore point for critics, and some watchers of the music industry in Ghana.

In July 2017, her dad was forced to defend her daughter in an interview with

Graphic Showbiz.



"I am supportive of anything my daughter does and anything she wears. I am not ashamed as a father, the truth is that, I choose what she wears and I bless her before she goes out to perform. Some Ghanaians are hypocrites and I am sorry but I am not one of them," explained Mr. Kwarteng.
"I am not bothered at all. The reason is simple, I know my daughter than anyone else. What people see out there is what we want them to see and that is because she is an artiste and needs a brand that will sell. For God's sake, she is a Dancehall artiste and she wears what will make her feel confident when performing on stage. Something that will depict the genre of music and songs she churns outs."

He shared his thoughts on the the perception that his daughter is "bad" girl.

"My daughter is not a bad girl, she is very calm, loving and a respectful person. Whatever she does on stage ends there. She is a different person when she gets home."

He also spoke about the relationship between himself and his "girl as I usually call her is close to my heart."

"We are so close that I gave her the go ahead when she told me she wanted to do music. Initially I questioned her decision because, she is a very intelligent girl and was doing extremely well in school and every parent will want his or her child to get to the top of the highest academic ladder. But she insisted music was what she wanted to do. Music is where her heart is and I gave her my blessings. I couldn't have stopped her because these children are smart."
Born Priscilla Opoku Kwarteng, her song 'Kupe' helped her gain mainstream attention in the Ghanaian music industry.

She snagged two and six nominations at the 2017 and 2018 Ghana Music Awards respectively.

Ebony was signed to Rufftown Records.