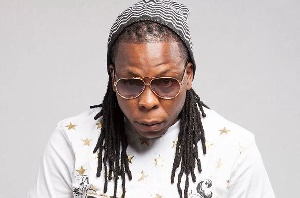 Ghanaian recording artiste, Edem has slammed Nana Opku Kwarteng, father of late Ghanaian artiste, Ebony for disrespecting her memory.
This comes amidst allegations that the former was paid 3,000 Cedis to perform at a tribute concert in honour of the late 'Sponsor' artiste.

A video posted on Instagram finds the artiste call out Mr. Kwarteng for being tacky in 'chasing' after money instead of respecting the memory of his daughter.

Ebony died after she was involved in a gory accident on the Kumasi–Sunyani road on February 8, 2018 when she was returning to Accra from Sunyani.
Her friend, Franky Kuri, and a Military Man, Atsu Vondee, who is said to be her bodyguard on board a Jeep from Sunyani also died in the head-on collision with a VIP bus heading towards Sunyani from Kumasi.

Her funeral service was held at the forecourt of the State House. She was later buried at the Osu cemetery on Saturday, March 24, 2018.