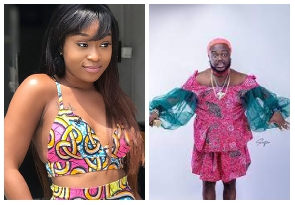 Ghanaian disc jockey and musician DJ Azonto has stated that he is the most hardworking musician in the country and for that matter, he deserves to be nominated as the Artist of the Year in all award schemes.
DJ Azonto has been nominated for the 'New Artiste of the Year under the same category as actress-turned-musician, Efia Odo, at the upcoming Ghana Europe Music Awards.

However, he has expressed displeasure at being lumped together with Efia Odo, arguing that Efia Odo is nowhere near his stature and brand, hence, people shouldn't compare the two.

"I believe in myself but people don't believe in me, recently I had a nomination for Ghana Europe Music awards, can you believe that a whole me they've placed me in Efia Odo's category?

"I have sixteen good awards to my credit and Efia Odo has no award and she has no hit song. I am better than everyone in the category of all the musicians, I am the number artist in Ghana.

"Efia Odo is not my class, do you understand, yes, I have 16 good awards to my credit so Efia Odo is never my class," he said.
He continued by saying that most Ghanaian artists are lazy.

"They're not working, they're lazy, I'm doing the work and they don't want to agree. I deserve to be applauded…because I wear ladies' dresses so they think I'm a fool," he added.

Watch the latest episode of The Lowdown below:



Meanwhile, catch up on the concluding part of Francis Addai-Nimoh's interview on GhanaWeb TV below:




AM/SARA