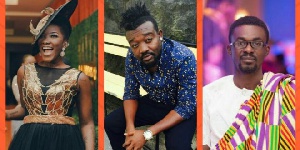 It almost a week since Priscilla Kwarteng known in showbiz as Ebony Reigns passed away in a fatal car crash that also claimed the life of two other people, her friends and a military man.
As nature and custom will have it, the whole nation was thrown into a state of mourning and sorrow, as we tried to wrap our heads round the tragic death of the young and promising artiste who was destined for greater things.

Out of the blues and nowhere, CEO of Zylofon Media, Nana Appiah Mensah got the nation talking with a subjective and controversial post that seem to suggest Ebony was under bondage and not happy with her management and record label, Rufftown Records, owned by Bullet, who makes up a half of the music duo, Ruff and Smooth.

Since that infamous and controversial post, social media has been littered with revelations on the behind-the-scenes fight between Zylofon Media and Rufftown records, all in a bid to get hold of the Ebony, with Nana Appiah Mensah and Bullet being the main culprits and voices behind the banters.

Bullet after reading Nana Appiah Mensah's post on how Ebony wanted a bailout out from his Rufftown Records, has also been on a radio tour to explain his side of the event and how Nana Appiah Mensah was allegedly trying to use money to lure the late Ebony onto his label, Zylofon Music.

As if that was not enough, Nana Appiah Mensah appeared on Zylofon FM to clarify his social media post and since then the accusations and counter accusations, now involving Sammy Flex has blown out of hands with more revelations being made on the backstage dogfight to have control of Ebony'scareer.

This is an unfortunate and sad situation that should never have gotten this far. The nation just lose one of the most talented female artiste to ever grace the music stage and instead of us to mourn and celebrate the impact she made on the art industry with even her short career, two elderly people who should have known better are out in the public domain throwing banters at each other, slowly and gradually destroying the legacy this wonderful songstress left behind.
Whoever is close to Bullet, Nana Appiah Mensah and Sammy Flex should kindly tell them to respect the family, friends and legacy of the young lady by talking no more about her contracts, bailout, Zylofon deal and all its related matters for we do not need that now and as a matter of fact are not interested.

They should give us a break and allow the nation to mourn the loss of a great talent. At least that is the least they could do to show their respect to the young girl's family. It isn't always about money and contracts and we aren't interested in them coming out to explain their sides of the story, we just want to give Ebony the last respect she deserves as a person who left a mark, that neither space nor time can erase.

By: Benjamin Kesse of Benjaminkesse.com