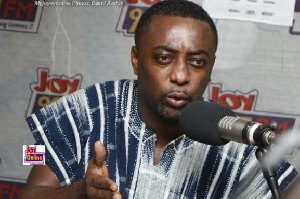 Thu, 10 May 2018 Source: Doreen Avio
Actor Ecow Smith-Asante has expressed disappointment in the government for not helping the Ghanaian entertainment industry grow.
Industry players have complained bitterly on how the industry is struggling and the fact that their grievances have fallen on deaf years with others concluding that the current minister is only interested in travelling and not giving a listening ear to their cry.

Speaking in an interview with Doreen Avio, the actor said individuals are trying on their own to make it in the industry but the government needs to lay down a proper foundation for the growth of the industry.

"the leaders are not paying attention, we are at the bottom line,you see artistes, they need artistes, sorry to say but politicians, some of them or most of them they need artistes when they are going to do politicians, when they are going to do campaign, that's when they realise they have a following, so they want to tap into our resource but that bad, after that that's it. We don't have a structure, so in this mood around we don't have an industry" he said.

Ecow Smith is of the opinion that most of the movie producers have tried their best but they are stuck adding there is no structure for the movie industry. He stated that the likes of Abdul Salam Mumuni, Shirley frimpong Manson and some Kumawood producers are stuck.
"You see, now that we are doing CD's and selling, we are not ready for the modern age technology so when the CDs run out of the system, they are stuck, internet went out of the system, internet is eating us up what are they doing about it? They are stuck because no one is helping, now everyone thinks whatever I m doing in my small corner is right, that's the right way to do it, so you go and do it and then you get stuck" he said.

Ecow Smith Asante has featured in movies like....... and has started producing his own movies. He produced and directed "Table of Men" which talks about.......

Asked why he is not following his colleagues to accept roles in Nigeria, Ecow Smith-Asante said he is not ready to beg for a role.
Source: Doreen Avio