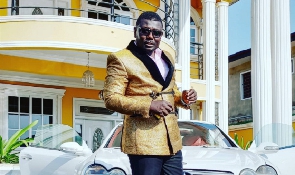 In 2006, gospel singer, Erico was named the season three winner of Mentor, one of Ghana's popular music reality shows. This shot him to fame and birthed the release of back-to-back hit songs.
The singer who now goes by the stage name Ark Eric has disclosed that life hasn't been all rosy after his big win. However, he doesn't regret distributing his winning cash prize of GH¢10,000 which was a fortune back in 2006 among other contestants and those who helped him during the competition.

"I was the winner of season three. The winning prize was equally good but I divided that money into three. I won GH¢10,000 in the year 2006, it was huge money.

"I took GH¢6,000 and distributed the remaining GH¢4,000 among the boys. The one who won the 2nd, 3rd and 4th positions, Papa Mentor also had his share," Erico told Kwaku Manu in an interview on the 'Aggressive Show' in May 2023.

Erico was quick to explain the rationale behind his act of kindness. On his account, he felt the reward for placing in the competition wasn't big enough, and as the winner he decided to show love to prevent any form of jealousy.

"Humans are naturally greedy, you must sow seed into people's lives. Among those who placed, the winner took a large sum of money. Someone can get jealous and even end your life, this was the reason for my move. I hit the studios with the money I had, I recorded my first song titled 'Otumi Ade Nyinaa Ye'," he recalled.

On Erico's account, most of his colleagues would not climb the leader to stardom due to a tall list of challenges adding that winning a reality show does not automatically make you a star, it entails lots of sacrifices.
"It is all about the hard work. Others also didn't get the needed sponsorship. There are some who after the Mentor reality show couldn't release a song. Others never recorded a hit song because it is not easy," he noted.

Popular among Erico's songs include; Twen Nyame and Ebube which remains a timeless hit in the gospel circles.







Watch the latest episode of Nkommo Wo Ho below:






OPD/BB