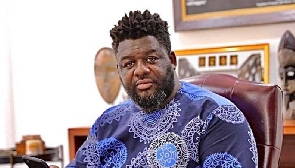 Artist manager Lawrence Nana Asiamah Hanson has criticized Gyedu-Blay Ambolley for what he perceives as a consistent attempt by the Highlife legend to undermine the efforts and achievements of the current crop of musicians.
In a submission on UTV's United Showbiz hosted by MzGee, Bullgod, a seasoned artist manager who has successfully handled the careers of multiple artists, such as 5Five, VIP, Iwan, and currently Vanilla, argued that Ambolley lacks the moral authority to claim that modern musicians' songs are hastily produced and of low quality.

While expressing how he respects Ambolley, Bullgod said the Highlife veteran himself can be seen as a participant in this category, given that his biggest song aligns with the notion of being hastily produced.

"Ambolley is my father, and I hold him in high esteem," Bullgod said on the show monitored by GhanaWeb. "However, when it comes to 'sharp sharp' songs, there is simply no one quite like him."

He continued: "Throughout his music career, he has a standout track that epitomizes this hurried style. When discussing songs in this category, what song can truly rival the content of his 'Simi Rap'?"

Meanwhile, Ola Michael, a movie director and broadcaster also chided Ambolley stating that he is fond of speaking down on young artistes without patronising or encouraging them.
"He is one of the people who doesn't have time to listen to the young ones and appreciate them for their efforts. Most of the time he talks about the young ones, he is always critiquing them. He speaks as if they do not do anything worthy or are not creative or talented.

"I remember sometime this year, he said that these young artistes sing more about their girlfriends than social issues. But his popular song, Simi Rapp was about a girl," Ola argued.

He dared Gyedu-Blay Ambolley to produce any young artiste whom he had groomed to take after him should he step down from making music, insinuating that the musician would be tagged a failure if he did not achieve such.

"Good leaders have always led people who are better than them to replace them. So if Mr Ambolley stops music and he cannot point out anyone whom he has trained or influenced to take after him, then he has failed. He should not blame the young people," he said.

Ola Michael further stated that Gyedu-Blay Ambolley has lost his touch with the new generation. Stating that many young individuals do not remember him for any song outside "Simi Rap".
"This young generation, most of them can't even relate to his songs. You ask any young one about Gyedu-Blay Ambolley, they will only know him for Simi Rapp, but he has a lot of songs," he said.

Ghana's leading digital news platform, GhanaWeb, in conjunction with the Korle-Bu Teaching Hospital, is embarking on an aggressive campaign which is geared towards ensuring that parliament passes comprehensive legislation to guide organ harvesting, organ donation, and organ transplantation in the country.

BB