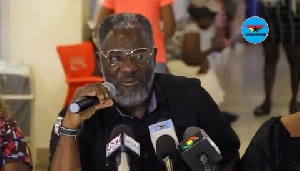 "Everything I do, is in the interest of my daughter", this was the statement made by Mr. Kwarteng, father of Ebony Reigns when he appeared on GhOne TV.
Speaking on the television, Mr. Kwarteng said that everything he had done and is doing since her daughter departed has been in her interest.

He argued that it was within his right to fight for what Ebony deserves and as such he was not going to stop until her daughter rightfully gets what she deserves for her hard-work.

According to Mr. Kwarteng, Ebony would even be disappointed in him if as a father, who was very close to her daughter, does not fight for what she deserves and worked so hard for.

"I'm only trying to get Nana Hemaa what she deserves. Everything I am doing today is in her interest because she worked so hard for this and it is my responsibility that her hard-work doesn't be in vain," he said in the interview.
Mr. Kwarteng also hinted that he does not hold any grudges against Bullet, her daughter's former manager but only wants Bullet to give to her daughter what she deserves.

He further said that any differences between him and Bullet could be ironed out but nevertheless he would not relent in his pursuit to get her daughter what she rightfully deserves.