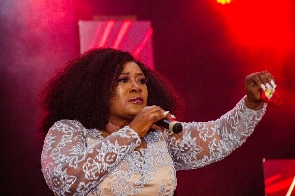 Fri, 17 Nov 2023 Source: Boga Ali Hashim, Contributor
Ghanaian Gospel musician, Angela Esi Saki-Kordah popularly known in the music space as Ewuraba Eesi made history during her maiden concert dubbed "Arukah Xperience" on November 12, 2023.
It was a glorious scene to behold at the Church of Pentecost, Sekondi Central as hundreds of enthusiastic fans flocked to witness the first-ever gospel headline show in Sekondi.

The Church auditorium was packed to the rafters filled with praises, worship, and overall, the electrifying power and presence of the Lord.

'The Gospel Shatta', as she is fondly called, along with The Eesians Band thrilled patrons with spontaneous heaven-dwelling tunes as she ministered her anointing-filled songs, leaving an indelible mark on the minds of patrons.

The presence of God was felt on the night of the show from the start till the end of the event.

The guest performers including the legendary Nana Yaw Asare, Diana Hammond, SK Frimpong, Vincent Nyarko, EL Manuel, KDM, Joyce Adomah, Angel, Ps David Arku, Elder Obed, Ebo Tandoh, Nelson amongst other great ministers added to the excitement of the concert and their performances were well-received by the audience.
Each artist showed their performing prowess when they took their turn on stage and had the audience on their feet throughout the time they were on stage, elevating the overall experience.

Fans of Ewuraba Eesi, her colleague artists, and industry players demonstrated how much they adore the singer, as it showed in the number that attended the event.

Including the Western Regional MUSIGHA and GHAMRO Chairman, Benard Kyie, Rev Dr. Jojo Fynn, Rev Bart Plange, Egya Ampaabeng, Isaac K Dentu, Mama Thess, Apostle Dr JJ, DjBrusky, DJThrash, amongst many notable personalities.

Social media and other digital spaces were also dominated by hashtags of the concert #ArukahXperience23.

The event was a resounding success, and it was a fitting tribute to the revered singer's career and her 10th-anniversary in the music industry celebration.
It is worth noting that the 'Arukah Xperience' concert will be held annually.

"And next year's 2024 edition promises to be mega and record-setting. Ghana should anticipate something spectacular. We believe God will do it again", Ewuraba Eesi said in an interview with HashimNews.

Meanwhile, following the triumphant event, Ewuraba Eesi expressed gratitude to God, her fans, and the media as she took to social media and wrote "Thank you Sekondi-Takoradi, Ewuraba Eesi Musik couldn't have done it without Christ and you.

To the church of Pentecost Sekondi Central, the media, sponsors, bloggers, the clergy, influencers, fellow musicians, patrons, eesians band, the arukah xperience team, and anyone who contributed to the success of this event, we say ayeeeko and God richly bless you."
Source: Boga Ali Hashim, Contributor