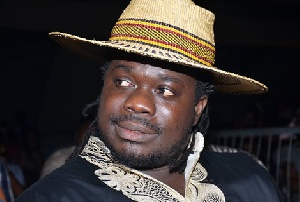 Fri, 15 Nov 2013 Source: George Clifford Owusu-Daily Guide
An award scheme which seeks to appreciate the contribution of musicians of Frafra origin has been launched in the Upper East Region.
The awards which is under the theme "Promoting our indigenous music and culture" is being organized by RAM Media Concepts in Partnership with Radio Gurune 99.3 FM in Bolga and supported by the Musicians Union of Ghana (MUSIGA) and Frafra Musicians Association (FRAMA).

Deputy Upper East Regional Minister, Daniel A. Syme who launched the awards said the arts and cultural sector must be promoted to increase economic development in Ghana.

He said people are educated on good societal values and norms through music and that music also promotes peace and unity among citizenry.

According to him, the government recognizes the potential of the creative industry to shape and reinforce Ghana's economic growth, adding that it has become a leading component of economic growth and employment in many countries.
The administrator of MUSIGA, Ahumah Bosco Ocansey who represented the MUSIGA President, Bice Osei Kuffour, aka Obour said the launching of the awards scheme is a demonstration of the commitment of members of FRAMA to development their sector.

The chief executive officer of RAM Media Concepts, organizers of the awards, Augustine Mark, noted that it is important to appreciate musicians who preserve the cultural heritage of the country.

He encouraged FRAMA musicians to be professional in their music production so as to reach international markets, adding that music of traditional origin stood a better chance of being exported to the international world.

The CEO of Radio Gurune 99.3 FM, Lydia Ajono also told the over 3000 audience that musicians must use their talent to promote unity amongst themselves and their audience. Madam Ajono encouraged the musicians to be enthused about their culture.
Source: George Clifford Owusu-Daily Guide