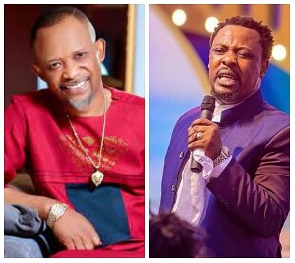 Managing Director of the Despite Media Group, Fadda Dickson Narh has interacted with Nigel Gaisie calming the nerves of the Prophetic Hill Chapel founder following a heated conversation with a panelist on UTV's United Showbiz over the weekend.
Gaisie had in a post referenced a certain Sheriff Black tasking his family to pray for him because of something unpleasant he (Gaisie) had seen in the spirit.

The media widely reported the news as a prophecy concerning the musician Black Sherif, but Gaisie clarified on the September 16, 2023, edition of UTV's United Showbiz Show that he did not specifically reference the artist.

Gaisie explained, "With prophecies, we see and prophesy in bits. I didn't hear Black Sherif; I heard Sherif Black in the spirit. But whichever way it is, a sensible person can make deductions from it."

He also emphasized, "Prophecies come figuratively, so if there is anything close to anything about or close to me, I can take steps. It is better safe than sorry, and people in the arts, after anything is said about them, have often attacked the clergy."

But a panelist, MC Yaa Yeboah, voiced strong criticism against Gaisie, stating without equivocation that he is being childish. She raised pointed questions about the prophecy's clarity and purpose, asserting that the prophet's evasive stance is problematic.

"I think Nigel is being childish, so to speak," she said on the show monitored by GhanaWeb. "His explanation makes no sense in my opinion. What he's said doesn't make any sense to me, even spiritually."
Unhappy about the remarks, Gaisie called into the show, fumed and demanded respect.

"If I was your pastor, you wouldn't say these things about me. You won't allow that young girl to disrespect me like she is doing," he addressed the host, MzGee.

"She is speaking her mind but she shouldn't disrespect me. I don't think she can speak about her pastor the way she is speaking to me. And MzGee, you have given her the platform to disrespect me. Give honour to whom honour is due. Don't be mischievous. With the greatest of respect."

The issue has engendered conversation with many sharing their views. On September 18, Gaisie in a Facebook post said he had had a conversation with Fadda Dickson hence he would let "sleeping dogs lie" because he holds the media house manager "in high regard".

"The happenings will guide me in my future endeavours and as a servant of God, I must always walk in love and forgiveness. I am very aware of the grace and mantles I carry and its corresponding occupational hazards, so, to my friends and others.... ALWAYS PRAY FOR ME," he stated.

"To those who criticize at all cost, even spiritual stuff, be assured the best is yet to come. We love you," Gaisie added.
A source close to Fadda Dickson confirmed to GhanaWeb that indeed, there has been an interaction between the two personalities in that regard.




Ghana's leading digital news platform, GhanaWeb, in conjunction with the Korle-Bu Teaching Hospital, is embarking on an aggressive campaign which is geared towards ensuring that parliament passes comprehensive legislation to guide organ harvesting, organ donation, and organ transplantation in the country.

BB