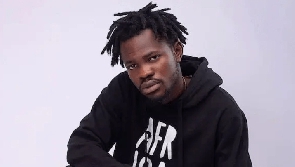 Ghanaian musician Fameye has shared a 'heartbreaking' experience he had while filling up his car's fuel tank.
The artist took to Twitter to express his frustration after he was allegedly sold fuel mixed with water by a fuel station attendant, resulting in extensive damage to his Honda Pilot Touring 2019 model car.

In the tweet that has since gone viral, Fameye recounted how he had purchased fuel for ¢700 at a fuel station, only to discover that his car was not functioning properly after driving for a short distance.

Upon further investigation, he discovered that the fuel he had purchased was mixed with water, which caused significant damage to the car's engine.

"I go buy fuel for one fuel station, 700 cedis; the rest is heart breaking," Fameye wrote on his social media page. "They filled my tank with water mixed with petrol As I'm talking to you now, my 2019 Honda Pilot Touring is spoilt. Spent 7k already and still not working! What do I do?"

In some social media reactions, netizens shared experiences of encountering similar occurrences.
So few days ago ,I go buy fuel for one fuel station ,700 cedis,the rest is heart breaking They filled my tank with water mixed with petrol as I'm talking to you now my car Honda pilot touring 2019 model is spoilt ???? Spent 7k already still not working!!! What do I do?

— peter (@Fameye) March 15, 2023
Watch the latest episode of Talkertainment below:
ADA/OGB