xxxxxxxxxxx Tue, 24 May 2016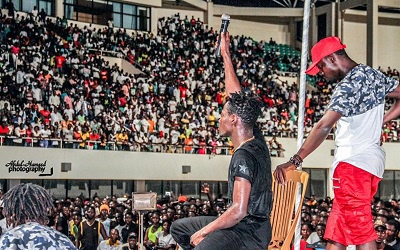 Ghana's music scene witnessed a shocker on the 21st of May as young and talented Musician Ahmed Mujahid Bello, Known on stage as 'Fancy Gadam' brought together a huge crowd at the Tamale Sports Stadium.
Last Saturday, May21 everybody in Accra was talking about Ghana Meets Naija but that was not the case in Tamale as everyone was geared up to witness the album launch of the 'King of Northern Music'.

Signed unto Five Minutes Music, Fancy Gadam performed to over 10,000 people at the Tamale Sports Stadium during the launch of his Album, "Naawuni Yiko" literally meaning God's Grace, alongside other supporting acts from the North. Fancy Gadam's Album Launch was sold as sources say he is the only Artiste to have filled the stadium in recent times.

A Radio presenter, Nash Iddi of ZAA FM in Tamale who was present at the event expressed his satisfaction and applauded the "Concrete" hitmaker and his management for a successful event.
Like I said before, no African artist will pull this crowd in Tamale lately…. Time for the world of entertainment to zone in and listen to us. We have something uniquely unique... going on here right now....., he said.