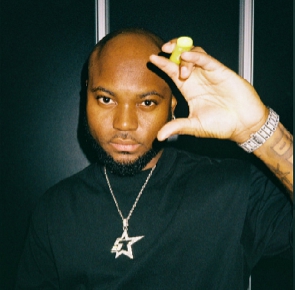 King Promise says fans play a major role to a song being a hit based on how well his current song 'Terminator' is doing although he didn't do anything different with regards to the promotion of his songs.
According to him, he teased the song for a while before releasing it which he never does.

Speaking in an interview with Kojo Manuel on Y107.9FM's Dryve of Your Lyfe show he said, "Usually I don't tease a song I'm probably even not doing as much as I've done for the other songs but you don't always determine the hits. It's up to your fans to do that and I've had several hits by God's grace from when I came so I can feel it when one is getting there and this is like the same feeling I've had for like a lot of the other hits".

He added that an artiste can do his best to produce a song and even go ahead to decide his favourite song but that song might not even be a hit because it's not what the fans like.
"So we just keep pushing, I don't stop working I keep promoting because it's never enough."

Giving details about the song he emphasized that the song is just a feel-good song, talking about his music journey so far and how far he's come.

He indicated that a video for the song will be out soon but will drop a visualizer for the song somewhere within the week. He asked fans to stay tuned and anticipate.