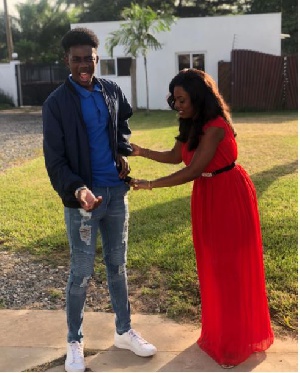 YEN.com.gh has sighted new photos of ace broadcaster, Nana Aba Anamoah all grown son, Paa Kow Anamoah and he looks so handsome.
While Nana Aba is seen in a red maxi dress, Paa Kow is spotted in jeans with a polo shirt and a jacket over it.

The photos, believed to have been taken in their home, were shared by Nana Aba on Instagram on Friday.

Nana Aba's caption suggested that Paa Kow was not willing to take the photos and it sounds like he is quite a tough customer to handle.

"Getting my son to pose for a picture is as difficult as pinning a medal on a shadow. Why are boys like this?", Nana Aba stated.

The photos have literally set Nana Aba's Instagram account on fire.
While some of her followers, who are likely mothers, agreed to the difficulty Nana Aba was talking about and recounted their experiences, many of them were only interested in the handsomeness of Paa Kow and even professed their love for him.

And almost everyone of them was trying to 'catch Paa Kow's eye'.

@sarah.tetteh.58 was straight to the point "I'm in love with your son..kisses to him"

@ewuraabena_mzberry was willing to pay a groom price for Paa Kow's hand"

@thenanaaba Aunty Nana am coming to marry him for this one dier we will turn Ghana to India I will pay the groom price well done you have a man now not boy May God bless my womb with such handsome boy one day"
@nanaesiadams Oh my boyfriend why

@afiaoseikonadu would have 'chased' Paa if she were single"

@thenanaaba so why did I rush to marry early when your son is fine la? "

@nanaakua_tiwaa admired Paa Kow's cutness "this is cuteness overloadddddddd" And even the guys were impressed.

@criscross1985 Wow! Am not gay but the guy is handsome. Mmmmmwah!
@thenanaaba @johnterrytresh had a warning for for Nana Aba "Be ready to see damsel queuing in your house...Fresh boy you got." Paa Kow, about 18 years old now, is the only child of Nana Aba Anamoah.

She gave birth to her as a teenager and has single-handedly raised him.

In 2016 Nana Aba revealed that she had not spoken to Paa Kow's father in the previous 16 years.