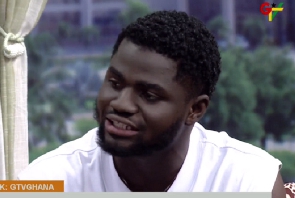 Mophty Legacy known in real life as Emmanuel Oppong has disclosed to GBC Online that, having a feature with the legendary Kojo Antwi on a track will come as a blessing to his life and career, adding that, Kojo Antwi has really contributed to the success of the Ghanaian music industry.
"This is a blessing, even Drew alone is a big blessing, so you can imagine how it will be. The Kojo Antwi one is a double blessing", he said.

In an interview with GTV's breakfast show with, Mophty Legacy made it known that he began his music career unofficially during his days in senior high school. He further added that he was more interested in love songs so he used to listen to Kojo Antwi's songs which greatly impacted him.

Mophty who is enjoying fame after jumping onto an open verse of Mr. Drew's case track also mentioned that the likes of Kojo Antwi have laid up every necessary path in the music industry worthy of following and emulating.
He further stated that singing his version on Mr Drew's case song came as a miracle because that was not the initial plan until Mr. Drew mentioned his name in a post.

The song has since drawn the attention of TikTok dancers, and celebrities like Stonebwoy and Asamoah Gyan.

He disclosed that he is currently in the studios recording his next project which will soon take the Ghanaian music scene by storm if it is released.