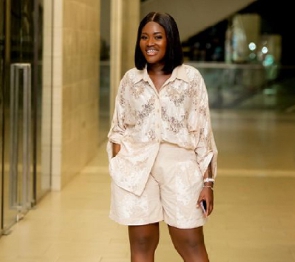 Following the release of the official music video of Medikal and Sister Derby's single, 'Cold and Trophies' on March 9, the wife of the former topped trends with social media users once again speculating separation rumours.
Amidst the wild rumours and calls for Fella to react to her husband's decision to work with his former lover, the actress, who seems unperturbed has shared new photos on Instagram.

Fella Makafui heightened rumours of her separation from the father of her daughter, Isaland Frimpong when she continuously made public appearances without her wedding band.

Also, she has deleted all photos of Mediakl on her Instagram page with four million followers.

On Friday morning barely 24 hours after the release of 'Cold and Trophies' the actress and entrepreneur published scenes from a recent birthday party she attended with the caption: "Busy Learning without the 'L'"

Meanwhile, Sister Derby, who is promoting her latest project took to her social media pages to describe her ex-lover as her best friend.

"Bestie things click on link in @amgmedikal bio for my latest feature #ColdAndTrophies," her Instagram post read.
Check out the posts below:


OPD/BB