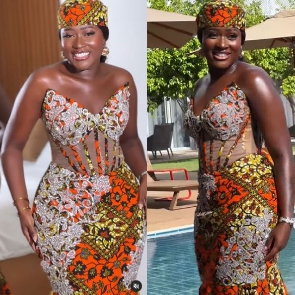 Talented Ghanaian actress and entrepreneur, Fella Makafui, has showcased a stunning African print outfit that left her fans in awe.
In an Instagram post she shared on May 5, 2023, the outfit, which consisted of a sleeveless top, a fitting skirt, and a headscarf, was a departure from the actress's usual style, and many netizens were left amazed by how she pulled it off effortlessly.

The vibrant colours and intricate patterns of the African print fabric blended seamlessly together, creating a unique and captivating design.

She matched her look with a simple but classy makeup and a smile to go with it.

The sleeveless top flattered the actress's figure, while the fitting skirt accentuated her curves.

The headscarf, which was tied elegantly around her head, added a touch of sophistication and completed the overall look.
The outfit was something many of Fella Makafui's fans hadn't seen her wear before, and it was new in the eyes of netizens.

Her usual style usually consists of modern and trendy clothing, but this outfit was a nod to her African roots, showcasing the beauty and richness of African print fashion.

Many netizens praised Fella Makafui for her impeccable sense of style, with some stating that they were inspired to incorporate more African print clothing into their wardrobe.


You can also watch some of our programmes below.








ADA/OGB