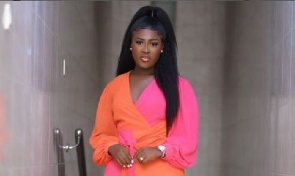 Ghanaian actress, Fella Makafui has opened up about a challenging period in her acting career where she contemplated quitting due to the difficulties of balancing her professional life with family, business, and other responsibilities.
In a 3news.com report, she stated that managing her acting commitments became increasingly challenging and she found it hard to keep a balance between things in her life.

"I think that it is one of the most difficult aspects of this job, at a point like 3 years ago, I almost gave up on acting because I couldn't balance it," she revealed

During that time, Fella Makafui added that her business ventures were thriving and generating income which pushed her to consider focusing solely on her business as it seemed more financially rewarding.

"For the fact that I have to be on set, close as late as eleven or twelve and I'm like, 'Nah, I don't think this will work.' And I was so much into my business because it was really picking up and making money. So, I was like, okay, if this one is giving me money, let me focus on this one," she explained.

However, Fella revealed that it was her husband who convinced her to continue pursuing her acting career.

"But ever since I got back, it's been okay. It was my husband who convinced me to get back, he said, 'You should not give up on this,' and he is very understanding.
"We have a chef, we have a cleaner, we have people who are helping us. We are managing because this is the life I chose to live," she said.



Watch the latest episode of Nkommo Wo Ho below:





ADA/DA