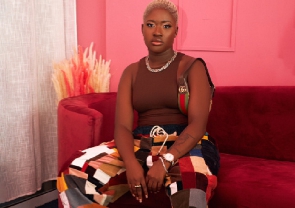 Actress and entrepreneur, Precious Frimpong, better known as Fella Makafui, has taken to social media to narrate how one of her female employees named Gina, allegedly made away with her GH¢50,000.
The actress who has vowed to retrieve every penny from the suspect mentioned that such wicked behaviour prevents the rich from offering a helping hand to those in need.

In a post to draw the public's attention to her plight, Fella adds that her act of kindness has been repaid with evil.

"Because of some of you, your bad character and stupid mindset be why people don't even want to employ you. Wicked and evil set of humans," parts of the tweet shared on Thursday, April 26 read.

Narrating the matter in a series of tweets Fella indicated that the woman who is on the run has blocked all means of reaching her.

"My Employee has stolen my money. My team and I can't find her anywhere. She has blocked us on all platforms. I only received a call from one man who claimed to be an officer threatening me. Gina, I know you seeing this, kindly send me my 50k. That's my sweat!"
"To think I'm praying to God 24/7, investing and putting in my energy and my employee dey enjoy my sweat. Na why them no dey help people. I employed you with a kind heart so my God sef won't let you rest. If you like, hide! I WILL FIND YOU AND TAKE EVERY PENY. ON GOD!" she stated.

Fella Makafui however did not indicate whether or not the matter has been reported to the Ghana Police Service for further investigations.

Read the post below:


My Employee has stolen my money .My team and I can't find her anywhere . She has blocked us on all platforms . I only received a call from one man who claimed to be an officer threatening me . Gina ,i know you seeing this ,kindly send me my 50k. Thats my sweat !

— Fella Precious Makafui (@fellamakafui_) April 27, 2023
To think I'm praying to God 24/7 ,investing and putting in my energy and my employee dey enjoy my sweat. Na why them no dey help people. I employed you with a kind heart so my God sef won't let you rest . If you like ,hide ! I WILL FIND YOU AND TAKE EVERY PENY . ON GOD !

— Fella Precious Makafui (@fellamakafui_) April 26, 2023
Because of some of you your bad character and stupid mindset be why people don't even want to employ you . Wicked and evil set of humans.

— Fella Precious Makafui (@fellamakafui_) April 26, 2023
Watch the latest episode of Nkommo Wo Ho below:
OPD/EB