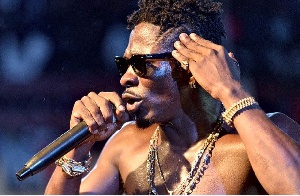 Dancehal artiste, Shatta Wale says persons in the Ghanaian music industry who fight him are fighting themselves.
He claims his antics which has led to severe criticisms is because he wants change and also to help "Our Industry compete with the world."

In two tweets posted on April 4, 2018, Wale lashed out at colleagues who speak of unity but don't practice it. He suggested that media company, Zylofon Media can help the Ghanaian music industry become better, and aid the financial situation of Ghanaian artistes.

Details below

"My Name is Shatta Wale and all I want is Freedom from Greed and Selfishness.This is what is killing the Game…I choose to be different because I want change .I want to see Our Industry compete with the world, We speak of Unity but we don't practice it….

I believe with Zylofon we stand A Great chance of making this happen and trust me I would give them My all to make this happen because SM2DAWORLD is Same as GH2DAWORLD. The Dream is the same ..U Fight me U Fight yourself. You fight Zylofon you fight your own progress."