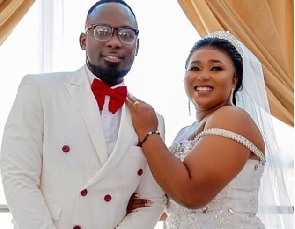 In an interview on the Delay Show on November 18, actress and former Angel TV presenter, Xandy Kamel, dropped a series of bombshells about her marriage with colleague, Nana Kwaku Mensah, also known as King Kaninja.
The exposé, which consisted of candid details about how she funded her marriage as well as their sex lives, led to a backlash from her ex-husband.

Amid the turmoil, videos of their lovey dovey days have popped up on social media.

One of such videos was an interview with blogger Zionfelix, shortly after their marriage in May 2020.

Ziofelix had asked Kaninja about his motivations for marrying Xandy Kamel, to which he explained that he married her because he didn't want a perfect person.

He explained that he was himself perfect; thus, an equally imperfect person is necessary so that they both grow together.

"I never said I needed a perfect person. This is because I am also not perfect. So, I never wanted a perfect person. But I believe in transition and somebody who is ready to learn and change. Life is about changing.
"She needed somebody who would get time for her and I also needed somebody who would understand me. So, we all came on the same page and we started growing from there. There are people who pretend to be perfect but are very deadly. The reason I choose Xandy is because she is not perfect, I also wanted someone who is perfect," he said.

Xandy Kamel got hitched to fellow Angel TV presenter, King Kaninja on 14 May, 2020.

Seven months after the couple met, their marriage, however, was short-lived as it fell apart after a year and three months. Xandy accused Kaninja of going to her ex and had promised to make life hell for them.

check the video below:


ID/NOQ


Click here to follow the GhanaWeb Entertainment WhatsApp channel

Ghana's leading digital news platform, GhanaWeb, in conjunction with the Korle-Bu Teaching Hospital, is embarking on an aggressive campaign which is geared towards ensuring that parliament passes comprehensive legislation to guide organ harvesting, organ donation, and organ transplantation in the country.

You can also watch the newest episode of Nkommo Wo Ho on GhanaWeb TV below: