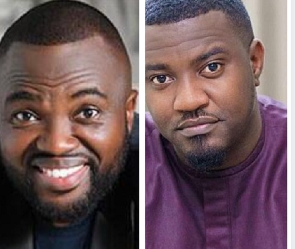 With many puzzled over why two best friends, Fred Nuamah and John Dumelo would contest in the Ayawaso West Wuogon parliamentary primaries of the National Democratic Congress (NDC), the former has said he is surprised the latter backtracked on a decision to not contest.
According to Fred who was Dumelo's best man when the actor married in 2019, he will not step down because Dumelo initially had no intention to join the Ayawaso West Wuogon contest; rather, he eyed another constituency.

"Frankly, it's late to step down. My brother informed me and a lot of people that he was not going to contest the Ayawaso West Wuogon Constituency again. He gave me his blessings when I made up my mind to contest.

"Truthfully, I am surprised about his u-turn because it was evident and crystal clear that he was not going for the Ayawaso seat anymore and rather invested in Guan/SALL," Graphic Showbiz quotes Fred Nuamah to have said in an interview with the newspaper.

In early February, Fred Nuamah made his intention public by announcing his bid with posters on his social media pages. This made some wonder if that was an indication that Dumelo would focus elsewhere considering that they are friends, GhanaWeb observed.

Dumelo, however, tweeted on Sunday, February 26, 2023, that "After extensive consultation with my God, my family and our party faithful in Ayawaso West Wuogon. This is the second coming."


After an extensive consultation with my God, my family and our party faithfuls in Ayawaso West Wuogon! This's the second coming. #Still IDey4you. pic.twitter.com/z58kvmmPO7

— Farmer John (@johndumelo) February 26, 2023
The actor who is also a farmer contested for the Ayawaso West Wuogon parliamentary seat and won on August 24, 2020, but lost to NPP's Lydia Alhassan during the December 7, 2020 polls. His decision to contest again after Nuamah announced his ambition has put a spotlight on the constituency again ahead of the 2024 general elections.
Some have urged the two to find a way to resolve the matter. They have argued that it would be better for one of them to step down and support the other. Others, on the other hand, have posited that once it would be a healthy competition, there is no need for one to step down.
Nuamah maintained in his interview that Dumelo should rather "honour his word when he said he won't contest the seat and, therefore, throw his support behind me. Besides, the argument that my brother made history for the NDC doesn't hold for me. Our party has been performing quite well in that constituency in previous elections before he contested the last elections."
He continued: "We have even won the presidential votes in Ayawaso before. We always come close to winning the parliamentary; we only lose it by some small margins. So, all the previous candidates, including
John Dumelo
, did well, but the ultimate is to win and not close a gap or place second."
The NDC has set May 13, 2023, as the date for both its presidential and parliamentary primaries. According to the party, parliamentary candidates will be required to purchase a form for GH¢5,000 and pay a non-refundable filing fee of GH¢40,000.
Presidential candidates will be required to purchase a form for GH¢30,000 and pay a non-refundable filing fee of GH¢500,000.

You can also watch some of our programmes below.





BB