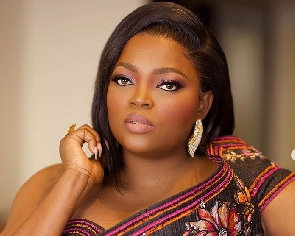 On Tuesday, Nollywood actress and State Deputy Governor candidate, Funke Akindele, was reportedly chased away while going to campaign in a market in Lagos.
According a vanguardngr.com report, PDP governorship candidate, Abdul-Azeez Adediran, popularly known as Jandor, in an interview confirmed that their campaign was cut short following the incident.

Jandor also said during a meeting with the head Imam of Ketu Central Mosque, a security team member was stabbed, and other people, including journalists, had been hurt.

He did, however, confirm that the actress got off the campaign trail and continued to walk the council's streets alone.

Peoples Democratic Party (PDP) reacts

Meanwhile, Hakeem Amode, spokesperson for the PDP in Lagos, claimed that the local government chairperson sent thugs to disrupt their campaign.
"Normally when we go to the market, Funke Akindele goes to the market to speak with the market women, and we know it is our right to be able to talk freely, a campaign to anybody," he explained.

According to him, the Ikosi LCDA Chairperson, Abolanle Bada, brought thugs to intimidate them.

He said, "the local government chairperson came into the market, used her car to block and brought a bunch of thugs to attack us in Kosofe local government, which is very, very sad; it is unbelievable we are not allowed to speak to people freely."

"Under the new electoral act, we are free to campaign anywhere; this is Lagos, where we should be able to talk to everybody without intimidation or discrimination. That should not even happen," he added.

All Progressives Congress (APC) responds
As a response, Seye Oladejo, spokesperson for the Lagos APC, denied the allegations.

He said, "The PDP people are well known for their wild allegations; if people were attacked, I think it is what the security agencies would be interested in; I don't think the solution is to take it to the media."

"As far as we are concerned, we are not in the business of violence; our party is going for victory, so why should we be distracted by people who cannot even put their house in order and want to come into government."

ADA/BOG