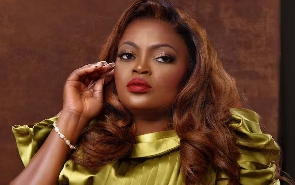 Nigerian actress and PDP deputy governorship candidate in Lagos State, Funke Akindele, was allegedly chased out of the Ikosi market while campaigning.
She was said to have been chased out of the fruit market by a group of people suspected to be thugs on Tuesday, January 24, 2023.

The PDP governorship candidate, Abdul-Azeez Adediran, aka Jandor, stated during an interview with NAN, that their campaign was cut short due to the unfortunate incident.

Jandor also revealed that a security team member was stabbed while others, including journalists, were injured.

PDP Lagos spokesperson, Hakeem Amode, has also alleged that the local government chairperson sent the hoodlums to disrupt their campaign.
He said: "Usually when we go to the market, Funke Akindele goes to the market to speak with the Market women, and we know it is our right to be able to talk freely, a campaign to anybody

"The local government chairperson came into the market, used her car to block and brought a bunch of thugs to attack us in Kosofe local government, which is very, very sad; it is unbelievable we are not allowed to speak to people freely.

"Under the new electoral act, we are free to campaign anywhere; this is Lagos, where we should be able to talk to everybody without intimidation or discrimination. That should not even happen."