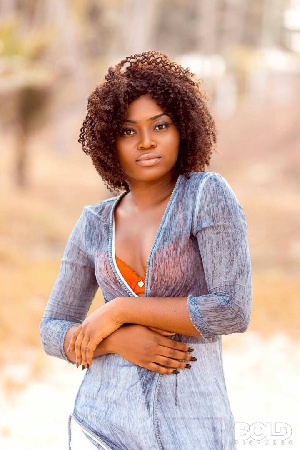 Talented comedian Golda Adukwei Bulley has found unimaginable fame on Twitter with her videos mimicking Funke Akindele's role as Jenifer in the hit series Jenifer diaries.
With over 15,000 views , 3,000 Retweets and counting Golda Bulley is the new trend queen and has been contacted by several producers to appear on their set, albeit the fact that she is fairly new in the entertainment circles.

Her almost unidentifiable act to that of Funke Akindele has got social media amazed as to how she perfected the art of impersonation.

In an interview with THE DAILY HERITAGE, the young and vibrant Adukwei Bulley revealed that she is a huge fan of Funke Akindele and has over the years learnt to walk, talk and dress like her.
"That is not to say I don't have my personal brand, I do, but I just love mimicking Funke. Her originality is top notch." she explained.

She revealed that her type of comedy will get the world talking about Ghanaian comedy and raise the standard and practise of comic art.