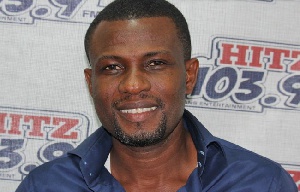 Board member of Vodafone Ghana Music Awards (VGMA), Mark Okraku Mantey has described Communication Head for Charterhouse, George Quaye as a talkative.
"Let's face facts, he is a talkative. He has a Masters in Communication, but sometimes, he gets carried away." He stated that, perhaps, George's role as Charterhouse's spokesman gets him to speak on VGMA –related issues and, because most industry folks are more comfortable with him, they go to him for information.

He went on to clarify how the system of communication works at the VGMA Board, stating that, the Board designates particular persons to talk on VGMA matters.

"Every year, the Board designates particular people to talk on VGMA matters. Sometimes, they are not communicated," he said. According to him, he and fellow Board Member, Nii Ayi Tagoe, have been assigned to speak for the VGMA Board on all matters relating to categorisation, nomination and selection of winners.

Mark Okraku Mantey, speaking on Hitz FM stated emphatically that George speaks for Charterhouse, organizers of the VGMA, and not the Board.
Mark called the actuality of every industry person knowing George as Communications Head for Charterhouse and spokesperson for the Board an impression.

"The impression is that he speaks for the VGMA, he does not speak for the VGMA Board. He speaks for Charterhouse," he stressed. Shockingly, he went on to state that, throughout the years, George has never been appointed to speak for the Board.

"Throughout, he is not the one supposed to communicate for the Board. In case he did, it was wrong."