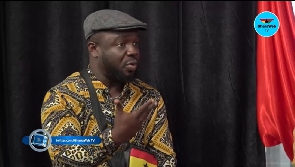 Ghanaian comedian and actor, Jeneral Ntatia, has disclosed that the Nigerian movie industry keeps thriving due to experienced actresses and actors who are cast in movie roles.
According to the comic actor, Ghana's West African neighbours can boast of having 90 per cent of the actors with knowledge in theatre art, unlike their Ghanaian counterparts.

Jeneral Ntatia has lamented the level of unprofessionalism and filmmakers' attitude toward casting less experienced people for roles in local movies.

He urged his colleagues to polish their talents in order to gain knowledge in the field.

In a Facebook post sighted by GhanaWeb on January 23, he wrote: "About 90% of Nigerian actors and actresses have performing arts background.
"Talent is good, but it's not enough. Get a little training to support the talent. We like fre fre kobor too much, after we have done fre fre kobor we want to compete with Anago."




OPD/BOG