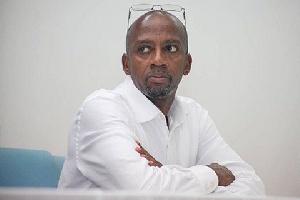 The Chairman of the Ghana Music Rights Organization (GHAMRO) Rex Omar has reacted to the demise of Ghanaian Highlife legend, Nana Tuffour, by stating that the Ghanaian music industry has lost a great musician.
In an interview on the Happy FM 'Ayekoo After Drive' show, he disclosed that the death of the Highlife legend had saddened members of GHAMRO.

"About a month ago we were in Kumasi to visit him. He always shared jokes with us. There was nothing that showed that he wasn't well. But we woke up this morning to the news. We have been saddened by the demise of Nana Tuffour", he said.

The GHAMBRO chairman related that the late Nana Tuffour was loved by all because of his great personality.

"Nana Tuffour was the second vice to our former chairman, Kojo Antwi, so he is a great man. Even as a board member, he was very humble. Nana and I stood for chairmanship and I beat him with just one vote. It tells you how powerful he is", he added.
While GHAMRO mourns Nana Tuffour, chairman of the organization, Rex Omar, has disclosed that it is yet to make an official release on the arrangements for their beloved.

"GHAMRO will officially address this issue. We are waiting for the family to schedule the one-week celebration. Then we will support them", he told Mercy Bee.

Legendary Highlife Musician Nana Tuffour aka 9924 passed on in the early hours of Monday 15th June 2020 at his residence in Kumasi. He was sixty-six (66) years.