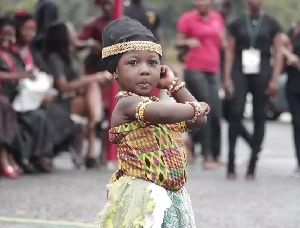 The funeral of late dancehall act, Ebony Reigns, known in real life as Priscilla Opoku-Kwarteng which is currently happening at the forecourt of the State House in Accra has drawn mammoth crowd.
Many heartbreaking photos from the event have already started going viral on social media.

However, there have also been the discovery of many beautiful photos that depict Ghana's culture at the ceremony.

Amidst the sadness and pain, some of the photos taken by YEN.com.gh have shown many people depicting our tradition and rich culture.
Some of the awesome pictures spotted were that of the Adowa dancers who were clothed in their beautiful traditional kente clothes and showcased their beautiful dance moves as they welcomed dignitaries to the ceremony.