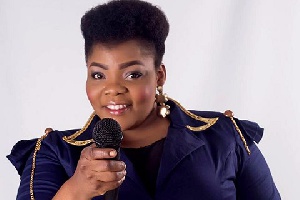 Gospel Musician, Celestine Donkor has said Ghanaian Journalists are not well informed hence their shallow and one way questions they always ask their interviewees.
According to the singer who spoke in an interview with Accra-based Peace FM's Sammy Kumah(Sammy Kay), "I was approached by an international media outfit after I performed on stage and the questions that were posed to me were very deep and detailed, their questions didn't tone one particular direction, it kept me thinking very deep, they didn't ask me questions like how did I start my career…"

She indicated that there is always the possibility of the interviewees to predict questions of the Ghanaian Journalist and that does not help them to dig deeper and think deeper.
She said "Sometimes I go for an interview and am able to predict questions that I will be asked, this is because Ghanaian Journalists ask one way questions and it doesn't bring out the best in the interviewee".