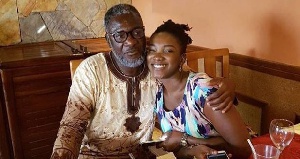 Father of the late, Ebony Reigns has bemoaned what he terms the hypocrisy of Ghanaians following the death of his daughter.
Nana Poku Kwarteng says although he is in pain mourning the death of his daughter, his heart bleeds at the level of hypocrisy that most Ghanaians showed regarding her death.

Following the accident of the music star, many Ghanaians took to social media lamenting what they feel as an unfortunate and unpardonable accident.

The fatal accident of the music star has been linked to a head of sand which was stationed just at the road path where Ebony and her crew were plying.

In an attempt to swerve the heap of sand, the Jeep carrying all three passengers crashed into a VIP bus leading to the immediate death of the singer.

Speaking to the media, Nana Poku Kwarteng says the very people who lashed out against his daughter for her style of dressing are now the same people crying over her death.

" Ghanaians can sometimes be very hypocritical. They hated my daughter for wearing short dresses. But in secret they love her music and are now mourning her death," the distraught father lamented.
When asked how he felt, he stated; "I just don't know".

So far, the bodies of Ebony, the soldier and another man are at Mankranso Hospital.

As investigations are ongoing. Priscilla Opoku-Kwarteng is Ebony's real name. She was born on February 16, 1997.

Ebony is a Ghanaian dancehall artist is widely known for her hit songs "Poison" and "Kupe", she was discovered by Bullet, a member of Ruff n Smooth fame.