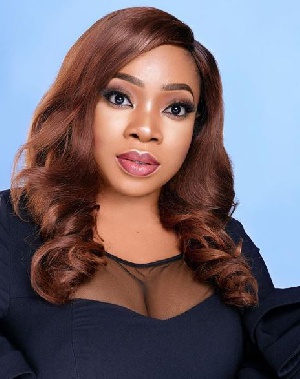 Moesha Boduong has fired at Ghanaians for criticising her recent interview with American media giant, Cable News Network (CNN).
The actress, in an interview with Christiane Amanpour on "Sex & Love Around the World" show, claimed that she funds her 'ostentatious' lifestyle through such activities since the acting jobs are not really paying.

She further blamed some of her lifestyle choices on the Ghanaian economy.

She claimed the economy isn't doing well to support hard work, therefore, the need to do other 'businesses' aside.

Her gaffe caused social media outrage, with many chastising her for generalizing her view on the international media outlet.

But, it seems she has a better response to all the critics who have not allowed her rest since her interview went viral on social media.

Responding to critics on a video that urges women to work hard to support their husbands shared on Ghanafuo.com Instagram page, she said 'it seems Ghanaians didn't understand her interview.'
A fan tagged her under the video asking her to heed the advice and her response were:

"It seems you people did not understand my interview".