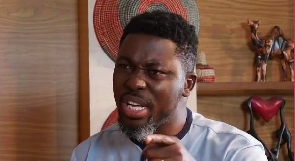 Ghanaian musician and politician Kwame A-Plus has disclosed that he has 25 more years to live on earth.
According to him, google made the information available to him when he had tried to find out when he was going to die.

As such, A-Plus said he wants to use the remaining of his life for better and meaningful things than for "foolish things".

He added that it is for his limited lifespan that he has been out of the news lately in order not to be invited to discuss foolish things.

This is definitely going to sadden many people who love the musician though he is very controversial.

YEN.com.gh gathered this in a report sighted on Ghanacelebrities.com.
He explained that some presenters ask questions about his personal life instead of using that time to talk about national issues.

A-Plus' marriage to Akosua V, according to the report, is almost crashing and he was asked about it in an interview which got him angry.

A presenter at Accra FM was reported to have asked him about the marriage but he termed it as a "foolish thing" he would not want to waste time on.

"The reason I find it difficult going for radio interviews is stuff like this. As we speak, there are people lying in the hospital and they are dying because there are no hospital beds and there are people who are on the floor to give birth, people are dying because they are drinking from the same pond with animals and when I googled when I will die it gave me about 25 years," A-Plus lamented.

"I see the seconds ticking it means that my life is wasting and so I don't have time for foolish things. Like to sit down and waste time on fooling, I don't have time for it," he said when he was asked about his supposed 'crumbling marriage'.
He also used the opportunity to advised journalists and media personnel to focus on issues that will help develop the nation rather than personal issues of celebrities.
Meanwhile, A-Plus, known to be a staunch NPP member has turned against the government.
In recent reports, he has often attacked President Akufo-Addo with many accusations.
A-Plus also said he is disappointed in the government for the ways affairs of Ghana are being handled.