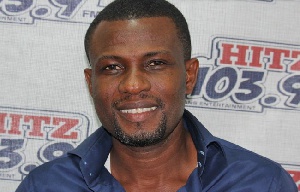 Gospel artistes in the country have become overly "sensitive" to criticism, renowned music producer Mark Okraku Mantey has said.
He said the "gospel society" had adopted an infallible, "superhuman" posture and created the impression that they were not liable to errors as humans.

His comments come on the back of remarks last week by CharterHouse Ghana Head of Communications George Quaye that there have been attempts by musicians in the past to influence the Vodafone Ghana Music Awards through bribe offers, with gospel artistes being the most culpable.

"I've been offered bribe by gospel artistes," George Quaye had revealed on GhOne TV. "If I could or if anybody on the VGMA board could alter results, it could have happened. Trust me some of the bribes have been very lucrative. But it's not possible.

"No disrespect to gospel artistes but the biggest bribe that I've been offered in the history of the scheme (VGMA) comes from the artistes."

Mr Quaye has apologised for the comments but some gospel singers, including Ohemaa Mercy, have dared him to name names, failing which they will return their previously won VGMA prizes to CharterHouse Ghana, organisers of the event.
Meanwhile, other singers have also called on gospel artistes to boycott the 2017 edition of the VGMAs in protest against the comments.

But Mr Mantey, who owns Slip Music and is the spokesperson for the VGMAs awards board, said the gospel musicians were going too far.

"I have one big challenge with the way gospel artistes handle issues. They make it look like they are superhuman, but let's face facts – gospel musicians are humans like the rest of us. They commit the same mistakes we also make but they portray themselves as super humans who never sin," he told Andy Favoured on Gospel 360 on Accra100.5FM on Sunday February 12.

Mr Mantey was quite certain that were the same allegation made about hiplife and highlife musicians or artistes of other genre, they would not make an issue out of it, and, thus, urged gospel singers to not dwell excessively on matters they are offended by.

"I think that the gospel society is becoming too sensitive. It is their right, though, but we should remember that the Holy Book, which gospel musicians read the most… says 'you forgive and you forget'. You jump over it and move forward in life. But it appears it is the gospel singers who hold on to slights," he added.