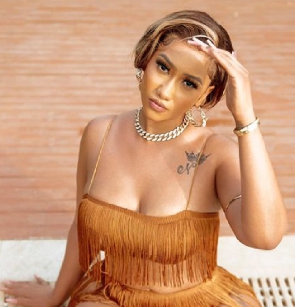 A former signee of Black Avenue Muzik, Nina Ricchie, as she is popularly known has stated that Ghanaian socialite cum singer, Hajia4Reall is the greatest of all time (GOAT).
She is of the view Hajia4Reall is the reason most of the ladies in the country are trying to hustle and become independent.

In an interview with Zionfelix, the singer stated that most ladies look up to her Hajia4real she has paved the way for some ladies in Ghana to follow thus, she respects her for that.

"She is the goat; greatest of all time. She is 100% the goat. She is the reason why these girls are trying to be like that. She is living on her own. She made the way for a lot of these girls, and to me, as a foreigner coming to Ghana, if I see Hajia, I will respect her".

Nina Ricchie further stated that the singer engaged in such activities because of the bad situation in Ghana which included the economy and the country's unemployment status hence, Hajia4Reall chose such type of hustle so she could survive.

She added that living in Ghana is not easy and believes if there were jobs in the country, Hajia4real would have applied for one.
"It is not easy. If jobs were on the table, I am sure she would apply for a job. It is not easy; Ghana is not easy. So, if you are doing your thing, go ahead because I respect that. I love hustlers and I gravitate towards that", she added.

Background

Popular Ghanaian socialite, Mona Faiz Montage, widely known as Hajia4Reall, had been extradited to the United States from the United Kingdom over alleged involvement in a $2 million romance scam targeting older, single Americans.

According to US federal prosecutors, the 30-year-old musician cum businesswoman appeared in Manhattan federal court on Monday, May 15 for her alleged involvement in a series of romance schemes.

The news has since flooded social media, topping Twitter trends amidst massive reactions from netizens online.
Watch the video below:


ED/BB