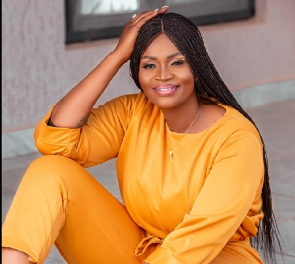 Ghanaian entrepreneur, Ayisha Modi, has voiced her opinion in the midst of the national discussion surrounding Mona4Reall's alleged involvement in a $2 million romance scam.
In a TikTok live session, Ayisha Modi expressed her support for Mona4Reall, otherwise known as Hajia4Reall and criticized Ghanaians who were jubilant and mocking towards her following her arrest.

Addressing the public in a viral video, Ayisha Modi condemned those celebrating Mona4Reall's misfortunes, labeling them as wicked souls.

She emphasized that everyone has their own skeletons in the closet and should refrain from judging others.

"Hajia4Real is someone's daughter. Whatever she has done has got nothing to do with you. If God will judge Hajia4Real, He won't use Hajia4Reall's sin to judge you.

"Yet you'll leave things in your home and your family and come out to speak on the sins of others. Why are we so evil and negative-minded? Can we compare what Hushpappi did to Mona4Reall?" she questioned.
The news of Mona4Reall's arrest and extradition circulated on Monday, May 2023, as she was said to have appeared in Manhattan federal court to face charges related to her alleged involvement in a series of schemes targeting vulnerable individuals living alone.

According to the New York Post, the socialite pleaded not guilty to the charges brought against her.

As the allegations unfolded, Mona4Reall is expected to be released in the coming days upon posting a $500,000 bond.

To ensure compliance, she will be subjected to GPS tracking through an ankle monitor as part of her release conditions.

The case has since garnered significant attention both locally and internationally due to Mona4Reall's prominent social media presence and her alleged involvement in a high-profile scam.
The public has been captivated by the developments, which have sparked discussions about the influence of social media and the repercussions of online activities.

As the legal proceedings continue, the fate of Mona4Reall hangs in the balance, and the spotlight on her case serves as a reminder of the importance of accountability and responsibility, both online and offline.

You can also watch some of our programmes below:








Watch the latest episode of Nkommo Wo Ho below:




ADA/BB