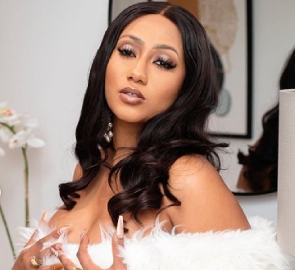 Editor of The Publisher Newspaper, Ansah-Addo Halifax insists that embattled socialite Hajia4Reall deserves every right to celebrate her birthday.
On June 26, 2023, Hajia4Reall marked her birthday and in the process made certain disclosures, which many considered uncalled for.

Hajia, who is currently standing trial for money laundering, and fraud among other offenses, was live on social media to celebrate her birthday with her followers.

This development has been criticized by a section of the public, who are calling on the socialite to keep a low profile.

However, Halifax disagrees with that assertion.

He was of the view that over the years, Hajia4Real is known for huge birthday celebrations and therefore she cannot be forced into silence just because she's standing a trial.
In a discussion on United Showbiz hosted by MzGee, he said: "She's been accused of very grievous charges but no one has found her guilty. So if it's her birthday, shouldn't she be happy?"

He continued: "In recent times, a man was accused of being a Canadian and was in court contested another election and won. They said even if you win we will jail you. He has won and he is jubilating. Even people who have been jailed are celebrated by their loved ones. Even people who are dead and gone are celebrated during their birthday. So I know a living dog is better than a dead Lion.

"She's alive, and she looks good. She does not look depressed. For some people, a mere allegation will make them depressed and they say they have bipolar and start talking anyhow.

"If her position is that I'm innocent, then I find nothing wrong with her theatrics and antics of proving her innocence. As far as her public outlook and mentality shows I've nothing to hide and that is her position, she should celebrate," Halifax added.