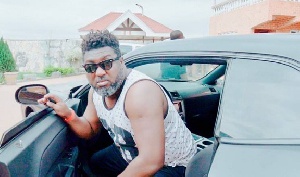 After taking a break from active music to engage in bread business, Edward Nana Poku Osei (Hammer) is set to make a comeback but in a different capacity.
The renowned record producer and founder of The Last Two Music Group is now lacing his boots to return as a businessman and assemble a team of artistes, producers and investors.

"I'm kind of tired for the music now. I'm gonna come back to music but as a businessman. I'm going to try and come back to put things together, put producers and artistes together, try and take them to the world, find investors for them and all that," he told 3FM's MzGee.

"I might invest but it's easier to get people who are interested. There are a lot of people out there who are interested in investing in music but they don't have the right place to put their money, they don't have the right person to entrust their money to. I think with my experience over the years and the wisdom I have acquired from the music business, it puts me in the position where I can handle these investors."

Having groomed a number of talents including Sarkodie, Kwaw Kese, Tinny, Edem, Okra and Teephlow, there are suggestions Hammer's decision to let go his production prowess would greatly affect the music industry.

The experienced music producer who is now into bread business however disagrees.
"That talent is doing bread now. It's the same thing. It was the gospel according to Hammer, it was my taste in music. Whatever you do is basically your taste in it… so it's the same taste I have in my bread," he explained.

"Dealing with this bread and my partner who gave me the opportunity to run this A1 Accra, I'm handling the bread like I would handle a bread business. The kind of unorthodox and unconventional marketing that I do, these are the things that define who you are. One industry cannot really define who you are. I came to serve these boys and I think my work is done for now," he added.

Hammer joined A1 Bakery, the company that produces A1 bread in 2017 as Chief Marketing Officer and Partner. The enterprise has since seen tremendous growth as it has become a household name.

A1 Bread has branches in Accra and Ashanti Regional capital, Kumasi where it initially started operations. It has employed about a 1000 direct and indirect young people since its inception.

The company is owned by 30-year-old Godfred Obeng Boateng, a product of Kwame Nkrumah University of Science and Technology (KNUST).