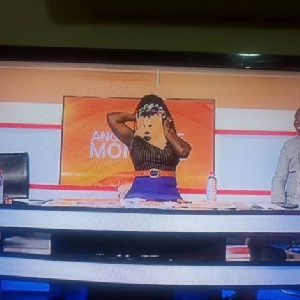 Former Deputy Minister for Food and Agriculture, Dr. Hanna Bissiw has joined the "Mask For Mosquito Bite" challenge by covering her face on live Television.
The challenge is in direct response to some claims by the SWAT Commander at the National Security, Deputy Superintendent of Police (DSP) Samuel Kojo Azugu who explained that the masked civilian operatives during the Ayawaso West Wuogon by-election wore masks to protect their faces from mosquito bites.

"My Lord, sometimes we wear those masks because of mosquito bites. To prevent mosquitoes from biting our ears and faces," DSP Azugu said during a cross-examination at the Justice Emile Short's Commission of Inquiry on Monday, February 18, 2019 in Accra.

Peacefmonline.com has sighted a photo of Hanna Bissiw and others joining the trend and sharing their mask photos online.
Click "Photos" for more