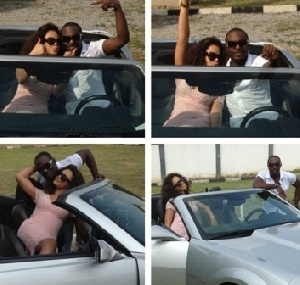 Mon, 24 Jun 2013 Source: Alfred Sarpong-Viasat1NewsOnline
Ghanaian award-winning actress, Nadia Buari, seems to have lost her friendship or relationship with someone close to her.

Although she did not mention any names in the latest series of messages which she tweeted a few hours ago, many are suspecting it could have something to do with her relationship with Nollywood 'bad boy' Jim Iyke.


The Beyonce and the Nigerian star both confirmed their affection for each other on twitter recently, following months of rumours.


Jim Iyke who uses the twitter handle @jimiykeofficial tweeted, "She calls me Skittles. I named her Space. D gift of laughter, companionship n trust is incomparable. BFF. Love is a f***ing beautiful thang!"


Nadia also tweeted, "There comes a point in ur life wen u realise who really matters, who never did and who always will.~I named him Skittles, he calls me Space."


But in a series of tweets today, Sunday, Nadia seems to be tired of being lied to. She earlier tweeted Never push a loyal person to the point where they no longer give a s***! Smdh!

This was followed by If its important to u, u'll find a way, if not, u'll find an excuse!


And then...Hurt me with the truth, but never comfort me with a lie. #Adios


Her latest tweet, hours after the last, was "Whatever I am today, I have been named already!"


Obviously, Nadia Buari is unhappy about someone, but who could it be?


There were rumours of her involvement with several celebrity male figures such as Real Madrid's Michael Essien, Olympique Marseille's, Dede Ayew, Koko Master, D'Banj and DR Congo's Fally Ipupa.

In January 2011, it was again rumoured that the sexy actress was engaged to DR Congo's Fally Ipupa after her split from Michael Essien. It was also reported that she was spotted wearing an engagement ring at a ceremony in Accra.


Although she didn't exactly say who gave the ring to her when questioned by the press, speculations were rife that it was given by a Nigerian businessman who sources say was her new boyfriend as a sign of his seriousness to settle down with her.


Jim Iyke, who also broke up with her Jamaican girlfriend not too long ago, has been hanging out with Nadia Buari in Ghana recently, with reports suggesting that the Nigerian could have relocated to Accra.


Checks on Jim Iyke's twitter page showed no comment or reaction to Nadia's tweets.

Source: Alfred Sarpong-Viasat1NewsOnline