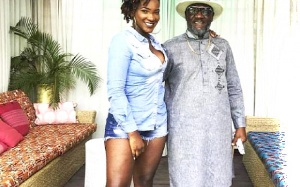 Nana Opoku Kwarteng, father of late dancehall artiste, Ebony Reigns has asked her daughter to make merry in the next world where she finds herself currently as she celebrates her 21st birthday today.
According to him, Ebony discharged her duties here on earth perfectly and will not be found wanting if she's asked to account for her relatively shot life on earth.

The 'Maame Hwe' crooner would have turned twenty-one (21) years today, February 16, 2018 if not for her untimely death.

The Dancehall songstress Ebony Reigns (Priscilla Opoku-Kwarteng) was involved in a gory accident on the Kumasi – Sunyani road on 8th February, 2018 when she was returning from Sunyani in the Brong Ahafo Region.

The Jeep vehicle in which she was travelling, crashed into a VIP bus leading to her death with two other occupants, her young lady and a Soldier who's said to be her bodyguard.

Speaking to Kasapa News on the occasion of Ebony's birthday today, Friday, February 16, her father recounted the quality time he spent with his daughter on her birthday each year.

"Ebony would have asked me to take her out to a place of her choice as if she was going to pay the bill. She would have been sitting by me in a car as I take her out later in the day. I miss her so much.
"Nana Hemaa (Ebony) wherever you are I know you can hear me and I believe you're happy by now. The task that were assigned to you, you executed it creditably, there's no way anyone will take you on for not doing your work. Feel free wherever you are and make merry. Ghanaians have mourned your passing and continue to be sad. Be happy wherever you are, if you know how to drink alcohol, have a good drink, eat your best food."

Ebony Reigns produced hits songs like 'Dance floor,' 'Kupe,' 'Hustle,' 'Maame Hwe,' 'Date Ur Fada' and 'Poison'.