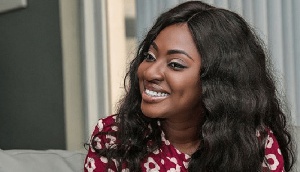 Nigerian actress and movie producer, Yvonne Jegede has advised that people should be guided when they are choosing role models.
According to her, they should not consider celebrities with millions of followers as role models because they are not superheroes.

The mother of one indicated that it is easier for them to choose role models within their circle, instead of looking up to a celebrity they know nothing about.

See her full statement on Instagram below:

"THE OTHER DAY I SAID PEOPLE SHOULD LOOK FOR ROLE MODELS WITHIN THEIR CIRCLE OR FOLKS AND PEOPLE WENT BIZARRE ON ME.
THESE PEOPLE YOU SEE ONLINE ARE HUMANS WHO HAVE ISSUES THEY ARE DEALING WITH JUST LIKE YOU.

PROBLEMS THEY CAN'T SHARE DUE TO THE STATUS THEY HAVE ACQUIRED IN THE LINE OF DUTY BECAUSE THEY CAN'T TRUST ANYONE ANYMORE, DEMONS THEY ARE BATTLING WITH WHEN THE LIGHTS GO OUT AT NIGHT.

LET PEOPLE YOU KNOW, PEOPLE YOU SEE EVERYDAY INFLUENCE YOU AND BE WISE IN YOUR CHOICES IN LIFE.

BECAUSE THEY HAVE HUNDREDS OF THOUSANDS AND MILLIONS OF FOLLOWERS DON'T MAKE THEM SUPERHEROES. #BEGUIDED"