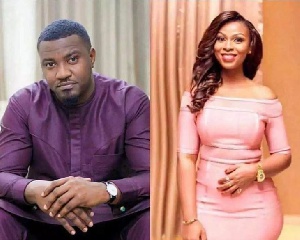 YEN.com.gh understands that the ex-girlfriend of Ghanaian actor, John Dumelo, is reportedly angry with him for breaking up with her two weeks ago and announcing plans to marry another lady, Mawunya, on Saturday.
An Instagram celebrity, who goes by the handle @ThoseCalledCelebs, announced on Friday evening that a friend of Dumelo's ex-girlfriend reached out to her and raised an alarm on Dumelo's treatment of her friend.

The friend said Dumelo's girlfriend Frances is heartbroken and that her family plans to sue the actor in court for wasting their daughter's time after dating her for four years.

She said Frances, who graduated from Ashesi university, feels used and deceived, especially because Dumelo recently discussed with her, plans for a vacation to celebrate their fourth year together.

The friend, whose name was withheld, suggested that Dumelo's wedding to Mawunyo will not come on as planned on Saturday.

The friend claimed that Mawunya was Dumelo's "side chick", who he has been dating for just two years. She claimed Dumelo is being forced to marry her because he impregnated her.

She threatened an unspecified action to deal with Dumelo and send a message to celebrities to treat their women with love and respect.
YEN.com.gh could not immediately verify the claims and cannot confirm them. Meanwhile, as YEN.com.gh has been reporting throughout the day, Dumelo's private wedding is expected to take place at a secret location on Saturday.




Many fans and colleagues of Dumelo have already taken to social media to congratulate and wish him well.