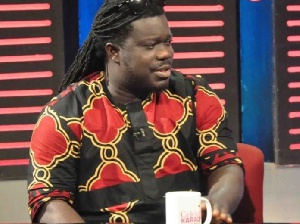 President of the Musicians Union of Ghana (MUSIGHA), Bice Osei Kuffour, known in showbiz as Obour, has delivered a damning assessment of Ebony's choice of costumes for shows.
According to him, the types of dresses that the dancehall songstress wears for events is downright bad, and must not be condoned.

He lamented that such ways are not in line with the moral values of Ghana, insisting that all musicians must be decorous in their ways of dressing.

Ebony has come under criticism from a large section of Ghanaians after she wore a dress exposing certain parts of her body.

Though the 'sponsor' hit maker is not overly worried by what people say about her, MUSIGHA president Obour holds contrary views.

"That [Ebony's dressing] is very bad. It is very bad. Again, in our vein as a union we will try to let the public know that they are in an acting role," Obour told Joy News.

We are also constantly always speaking to our musicians that they should be conscious of the moral values of the country they are operating in.
"Lady Gaga could wear that same costume and nobody would cry or scream foul about it because the moral values of the country they are in is different from that of the country we are in now. And so we are always advising our musicians to be quite decorous in their way of dressing."


Obour jabs Ebony over her costumes.#JoyNews pic.twitter.com/MSlU19cxfg

— #JoyNews (@JOYNEWSONTV) November 28, 2017
He was, however, quick to add that his comments must not be taken to mean that female musicians and actresses cannot dress the way they want to events and programmes.
According to him, actresses have the right to wear whichever costume they want but must have the moral values of the country in mind.
He assured that MUSIGHA will do its bit to ensure it speaks to the various musicians on their ways of dressing.