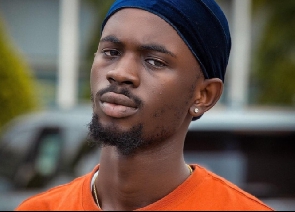 The CEO of The Cruise People, Mr. Vanderpuje, in an earlier interview with Joy FM, stated that Black Sherif's father who lived in Athens, Greece, persuaded them to bring his son on board for their show.
The issue was discussed on the United Showbiz, and one of the panelists, George Quaye shared his two cents.

The media personality has described as sad how Black Sherif's father's quest to hook his son up with a gig, rather ended up in his arrest.

"From the conversation, I didn't even know Blacko's parents were in Greece. I feel so sad about this. Apparently, it was his father that reached out to the cruise people. When you listen to the conversation, it looks like they had other artistes in mind but Blacko's father reached out to them. He told them to put his son on. They liked the gesture, reached out, and agreed on a figure, which was $40,000," Quaye said.

Touching on claims that Black Sherif breached the part of the contract where he was supposed to share a video marketing the event prior to its scheduled date, George Quaye added.

"They paid $20,000 and were waiting for a video to ignite the show but it never came. If you're organizing such a show of this sort. One that has to do with these travel agencies and stuff, it works best if advance tickets sell. A lot of artistes do not read contracts. But can you blame them? That is why they have people who are supposed to read the contract for them.

"A lot of artistes pay people to be on the team that are solely responsible for reading and interpreting contracts. Artistes are creative people. They are mostly thinking of what to do on stage. Only a few artistes pay attention to such things and even in their case, it is as a result of past experiences."
He, however, concluded that someone from Black Sherif's team must have failed him.

"When I heard he was arrested, I felt sad for the young man. I felt sad for him because someone on his team failed him. Someone on his team must have failed him," George Quaye expressed.

Meanwhile, the complainant in Black Sherif's case, The Cruise People, has stated they will stop at nothing until they are offered reasonable compensation for their losses after the artiste abruptly pulled out of their upcoming 'Afro cruise' event.

Black Sherif's 'arrest'

Earlier on Wednesday, July 19, 2023, Black Sherif was picked up for questioning at the Kotoka International Airport, a situation that stirred massive reactions from social media.

According to a Kofi TV report, Blacko was moved from the airport to the Police Headquarters in Accra, following claims of a breach of contract with 'The Cruise People'.
EB/BB